Song Galaxy
Backing Tracks Out of this World
Galactic Quality
Sing with the Stars
MIDI-files & Audio Backing Tracks on MD/CD
Freeware
Free Song Galaxy MIDI Karaoke Player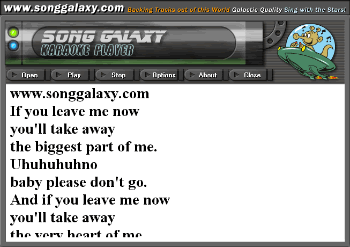 Enjoy a Karaoke session on your PC, or practise lyrics before a gig. Since most of our MIDI-files come with lyrics encrypted, we thought you would enjoy this software. Included in the download are 5 demo files, so you can see right away what you have been missing so far!
Download here (KaraokePlayer.exe, 496 KB)
Free MIDI-file Format Converter
Our MIDI-files now come in both Formats. Format 0 means that all events are in one track, whereas Format 1 has the MIDI-file split up into its individual instruments (so your keyboard can read it from the disk. This converter lets you switch between the two. Any lyric information is left intact and you can also save MIDI-files in the popular .KAR format. Please note: file names can be no longer than 8 letter in length.
Download here (midicvt.exe, 349 KB)
News
14-04-2017
Now choose from over 10000 Multi Tracks in our ever-growing catalogue!

26-02-2017
Look out for a big addition to our MIDI file catalogue over the next few days!
08-02-2017
Now choose from over 19000 audio Backing Tracks, from classic Rock & Country to the latest Chart hits!
01-11-2016
This month we're celebrating hitting a new milestone, 32000 MIDI files !
31-06-2016
We've been busy in the studio. Over 450 new tracks added to our database this month!
26-06-2015
Webshop redesign, now optimised for viewing on mobile devices! Do you like our new look?!