Song Galaxy
MIDI files & Backing Tracks
Out Of This World
Galactic Quality
Sing with the Stars

Freeware
Free Song Galaxy MIDI Karaoke Player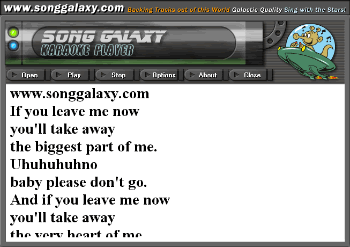 Enjoy a Karaoke session on your PC, or practise lyrics before a gig. Since most of our MIDI-files come with lyrics encrypted, we thought you would enjoy this software. Included in the download are 5 demo files. Please note: this software is from 2002 and may not be compatible with current operating systems.
Download here (KaraokePlayer.exe, 496 KB)
Free MIDI-file Format Converter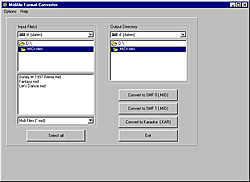 Our MIDI files now automatically come in both Formats. Format 0 has all events on one track, whereas Format 1 has them split up into individual instruments (so your keyboard can read track info). This converter lets you convert between the two. Any karaoke lyrics are left intact. You can also convert MIDI files to .KAR format. Please note: file names can be no longer than 8 letters in length.
Download here (midicvt.exe, 349 KB)
News
18-08-2017
Big addition to our Multi Track catalogue! New Silver Multi Tracks are Audio recordings of MIDI files, with each instrument on a separate track. Much bigger choice of songs in several languages, at cheaper prices!
31-07-2017
iPad App update! Multi Tracker has a new design! Now save your mix and upload to Dropbox!
01-06-2017
Brand new, versatile format: Your-Mix songs! MP3 backing tracks based on our MIDI files. Change song key and remove any instruments you play yourself. Over 33000 songs available!

14-04-2017
Now choose from over 10000 Multi Tracks in our ever-growing catalogue!

26-02-2017
Look out for a big addition to our MIDI file catalogue over the next few days!