Song Galaxy
Backing Tracks Out of this World
Galactic Quality
Sing with the Stars
MIDI-files & Audio Backing Tracks on MD/CD
About Multi Tracks
Customise special Multi Track backing tracks, remove instruments or vocals you want to play or sing yourself, and once you've got the perfect backing track, save the end product as a Wave or MP3 file to sing or play along with!
Multi Tracker for iPad FREE to download in the App Store (21.2mb)
- Several FREE full-length songs easily downloadable within the App.
- NEW NOV 2013! Key and tempo change added! Multitasking enabled..
- All Multi Track songs available in our webshop can be loaded through iTunes or Dropbox (see "How to" at FAQ page).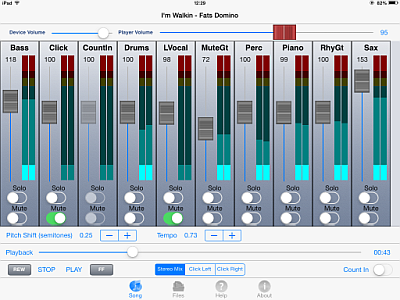 ------------------------------------------------------------------------------------
Multi Tracker for Windows free to download here (2.5mb)
Now includes Key change and Panning functions.
Sys. Req: Win2000, XP, Vista, Win 7. Soundcard, PIV 1 GHz, 512MB RAM
Video tutorial available here.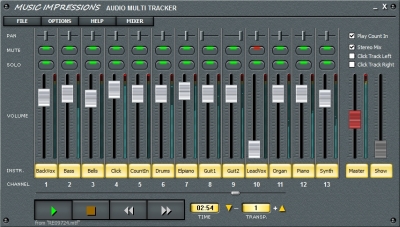 ------------------------------------------------------------------------------------
Mac OSX Multi Tracker (Beta version) free to download here (13mb)
Player and converter for Multi Track backing tracks. Mute instruments or vocals.
UPDATE MARCH 2015: New design and extra features added!
Key & tempo change! Multiple design styles to choose from.
Sys. Req: Mac OSX 10.7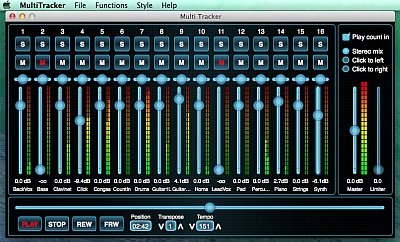 ------------------------------------------------------------------------------------
2 free full-length songs to load into our Multi Tracker software:
(Instructions: Please download the MTF (Multi Track File) and unzip the file, then load into Multi Tracker.)
That's Amore - Dean Martin
I'm Walking - Fats Domino
Browse our catalogue and buy Multi Track files here...
The Story of Multi Tracks:
In the past, Song Galaxy often received requests from customers, asking if we could remove a certain instrument to create a backing track minus guitar or drums etc.. However, up until 2008, the only Multi Track software available was for recording multi track files.
Therefore, in August 2008, Song Galaxy proudly introduced our revolutionary Multi Tracker software, an easy-to-use program which separates special multi track files (*.mtf format, available here ) into up to 16 individual tracks, with each instrument on a separate track. This gives you the freedom to adjust exact levels of individual tracks, or mute instruments you want to play yourself.
Comparison of Software Features:



Windows MT

iPad App

Mac MT

Key change

up to +/- 12
semitones

up to +/- 12 semitones

up to +/- 6 semitones

Tempo change

No

up to double/half
original tempo


Yes

Save

MP3 or Wave.
Save Project Mix.


Auto save within
App. No export

Wave.
Save Project Mix.

Pan channels

Yes

No

Yes

Click Track

Yes

Yes

Yes

Count In

Yes

Yes

Yes

....Extras....

Master Limiter from
Kjaerhus Audio.
Choice of 7 sounds
for Click/Count In.
Export to audio sequencer

Load songs via Dropbox or iTunes

Choice of 7 sounds
for Click/Count In.
Export to audio sequencer
Possible uses for Multi track songs:
If you want to play drums yourself, you can mute the 'Drum' track and leave the rest of the song as it is to play along with.
Or if your band doesn't have all the instruments for a certain song, add the sounds you're missing with a Multi Track for a fuller sound.
Band practice - if you want some extra practice on your own, but still want the sound of the rest of the band, just download the Multi Track and select the instruments you need.
What if one of your musicians falls sick just before an important show? Just find the Multi Track in our catalogue and customize it using Multi Tracker to play that one track that you're missing.. It's so easy and fast, you'll still have time to write your musician a Get Well card!
There are so many possibilities and the format is so easy to use - what can you do with Multi Tracks?
Download Windows Multi Tracker here
Sys. Req.: Win2000, XP, Vista, Win7. Soundcard, PIV 1 GHz, 512MB RAM
Download Multi Tracker for iPad in the App Store
Sys. Req.: iOS 5.0 or higher. Function limited on iPad 1
Download Mac OSX Multi Tracker (Beta version)
Sys. Req.: Mac OSX 10.7
News
11-09-2015
This September we're celebrating hitting a special milestone, 8000 Multi Tracks!
26-06-2015
Webshop redesign, now optimised for viewing on mobile devices! Have you seen our new look?!
17-03-2015
New look Multi Tracker for Mac now available, with key and tempo change!
27-11-2014
Now over 7000 Multi Tracks available, from current chart hits to classic favourites!
12-11-2014
A big addition to our MIDI catalogue this week took us to well over 30000 songs! Many popular German classics and chart hits added..
29-07-2014
Now over 16000 songs to choose from in our Audio backing track catalogue!
21-11-2013
The latest update to our iPad "Multi Tracker" app includes key and tempo change functions! Multitasking now enabled - song plays on in the background when you close the App during playback..