Software
MP3 Key Changer Version 2
Price: £29.00

Download demo BUY



Do you want to sing along with a backing track, but the key is too high? Or would you like the song to play a little faster? Then you have found the right software: MP3 Key Changer V2!
Features:
- NEW: Improved saving algorithms for Higher Quality editing!
- Handles both MP3 and Wave files.
- Transpose songs up to +/-12 semitones.
- Adjust the tempo by up to half or double the original tempo (-50% to +200%)
- Hear the adjustment in real-time before saving (preview quality only)
- Save your edited song as MP3 or WAV.

Minimum System Requirements: Win2000, WinXP, Vista, Windows 7, Soundcard, PII 500MHz, 128MB RAM
Demo version fully functional, but only the first 1/3 of a song will play. You can save 3 key changes before you need to purchase and register.
Midi Eddie
Price: £19.00

Download demo BUY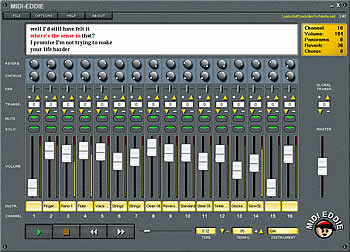 Make your MIDI files sound better!
Transpose, mute instruments, select other sounds, adjust volume levels, and much more..
Supports GM, GS, XG, GM2 MIDI files.
Karaoke lyrics display in-built.

Free Demo version allows you to save a file 3 times, before you need to purchase and register the software.
Minimum System Requirements: Win 2000, Win XP, Vista, Win7; Monitor resolution 1024 x 768; Soundcard or Keyboard
Multi Tracker
Download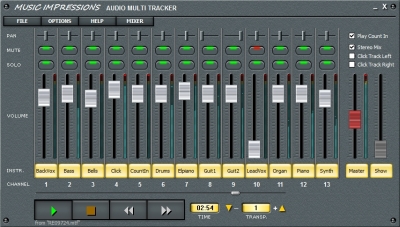 Edit and customize our special Multi Track backing tracks, remove instruments or vocals you want to play or sing yourself, and once you've got the perfect backing track, save the end product as a .wav file to sing or play along to yourself!
NEW Features:
- Key change
- Save your mix as a Project
- Re-name channel names
- Change Pan position of channels.

Customisable Multi Track backing tracks for use with this software are available in the "Multi Tracks" section of our Webshop, where you can also watch a free Video Tutorial about Multi Tracks.

System Requirements: Win2000, WinXP, Vista, Win 7. Soundcard, P IV 1 GHz, 512MB RAM
Audio Eddie Pro
Price: £59.00

Download demo BUY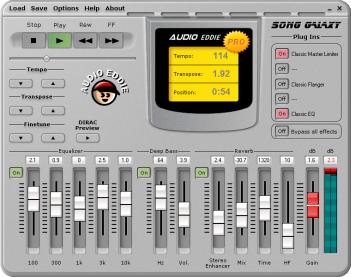 AUDIO Eddie Professional version: Now with improved algorithms for superior quality.

2012 update: NEW Features:
- New DIRAC Processor 3.5 now incorporated, for higher quality tempo and key changing.
- Load more popular file formats: AIFF, OGG, MP3, WAV and WMA (saves only as MP3 or WAV)
- Mono files can now be loaded and saved, as well as Stereo.
- Files with sample rates other than 44.1 or 48 kHz can now be loaded in and saved.

PLUS all original features:
- Transpose songs up to +/- 6 semitones (with fine-tune)
- Adjust song tempo by up to -35%/+ 75% of the original tempo
- Hear and experiment with your adjustments in real-time (Preview quality)
- EQ a track, or add Deep Bass for extra depth
- Several VST Plug-Ins built in with permission of Kjaerhus Audio...

Demo lets you play only the first 1/3 of a song and allows saving a track 3 times.
Minimum System Requirements: Win2000, WinXP, Vista, Win7. Soundcard, PIII 1 GHz, 512MB RAM
Karaoke Eddie
Price: £19.00

Download demo BUY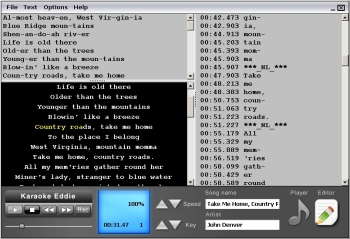 Create your own personalized Karaoke with Song Galaxy's new Karaoke Eddie software!
Simply load in any MP3 file to start!

Features:
- Synchronize lyrics with music.
- Adjust tempo (speed) for easier synchronisation.
- Change song key up or down.
- Personalize the look and style of your Karaoke, e.g. font, colour, background picture.
- Save karaoke with lyrics as part of MP3 file (key/tempo change doesn't save).
- Player mode to playback your complete Karaoke.
- Playback karaoke on certain keyboards:
Korg PA500; PA800; PA1X; PA1X Pro; PA2X; PA2X Pro
GEM Genesys; Genesys Pro; Genesys XT
Ketron Midjay; Midjay Plus; Audya

System Requirements: Win2000, WinXP, Vista, Win7. Soundcard, PIII 800MHz, 256MB RAM